Regular price
$679.95 USD
Regular price
Sale price
$679.95 USD
Unit price
per
Sale
Sold out
View full details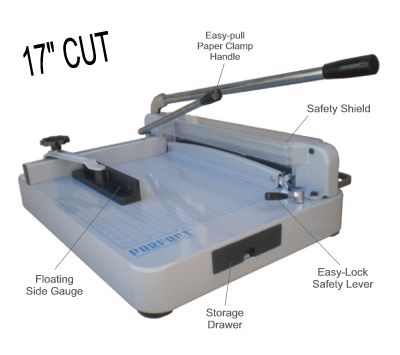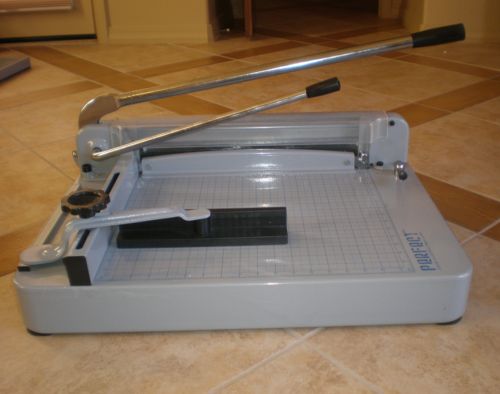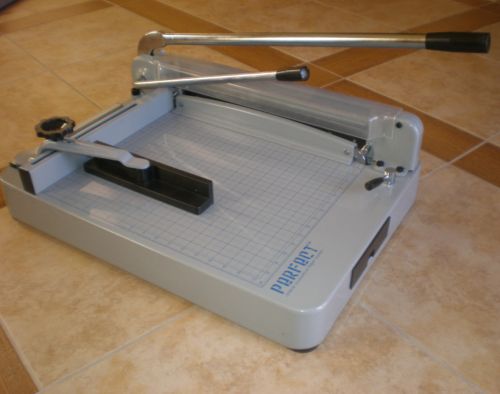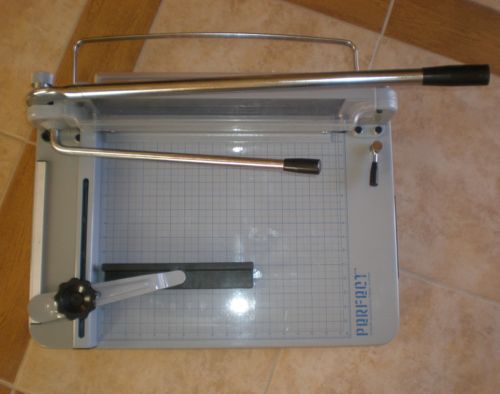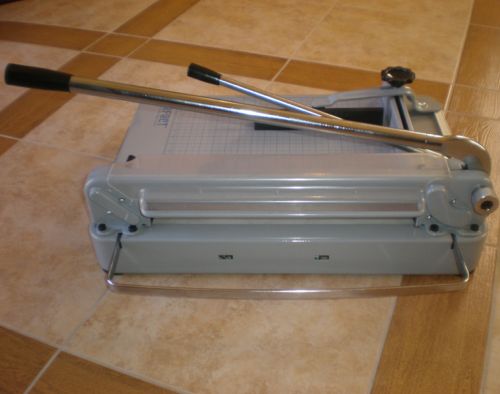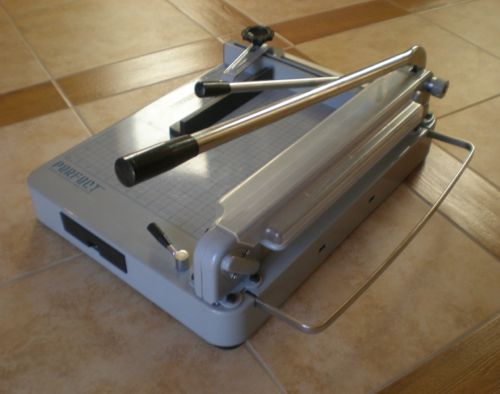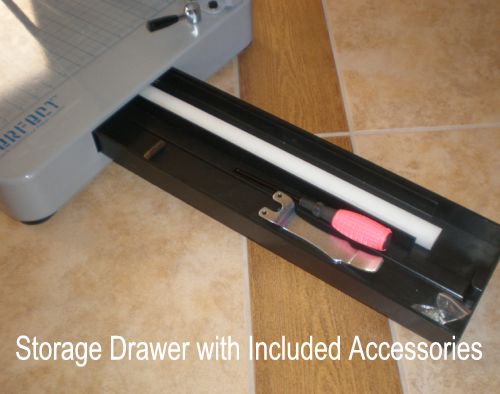 Description
PERFECT® G17 PRO Paper Cutter. This paper cutter is the highest quality, precision paper cutter we have ever tested. Right out of the box you will notice the quality of this machine. The blade is a hardened steel, razor sharp, extra long 17" blade. It will easily cut a stack of 20lb paper, 400 sheets high or approx 1.5". The blade lasts for hundreds if not thousands of cuts. However, should you ever need to replace the blade, this cutter is designed so that it is very easy to do. Unlike other heavy duty paper cutters that require you to disassemble the entire cutting assembly, the PERFECT® G17 PRO paper cutter has an easy replaceable blade. Simply use the included Blade Replace Handle to hold the blade while you remove the screws that hold the blade in place. The blade comes right off and a new one can be put on just as easy. This is a huge plus as most people who need the blade replaced on other heavy duty paper cutters will have to send it back to the manufacturer for blade replacement due to the high difficulty and danger of replacing other paper cutter blades. The PERFECT® G17 PRO Heavy Duty Paper Cutter is ideal for Schools, Churches, small and large Businesses, Print Shops and much more.
Product Warranty (1 yr)
MBKP International agrees to repair or replace, at its option, any defective part or component covered by this warranty, provided there is no evidence of abuse and we first receive written notice via email of a defect within the applicable warranty period. Maintenance, adjustments and any labor costs are not covered under warranty. Wearable items are not covered under warranty. Wearable items include, but are not limited to: cutting blades and cutting pads. This warranty extends only to the original purchaser. MBKP International makes no further warranty of any kind and specifically disclaims any warranty of merchantability for a particular purpose. Do Not connect this cutter to any type of DC backup power units. Doing so will void your warranty as it will cause problems with your cutter and possibly damage it.

Repairs done by us would require the cutter to be shipped back to us or we can ship parts to you, for you to replace the defective part. If you decide to replace a defective part yourself, MBKP INternational is not responsible for any injuries that may occur while repairing this cutter. We highly recommend you use a qualified professional to replace any parts. Should you decide to return the cutter to us for repair, you would be responsible for making sure the cutter is properly packaged and insured for shipping. We highly recommend that you keep all packing materials for future use, if needed.

For warranty repairs, shipping charges will be paid in the following manner:
- 1-30 days from date of purchase - We pay all shipping charges.
- 30 days to end of warranty - You pay shipping to usm we pay shipping back to you.
- After warranty has expired - You pay all shipping charges.
Return Policy: 30 Days
Paper Cutters can be returned for a refund for 30 days from date of purchase. Buyer is responsible for all return shipping and packaging charges.

Please Note: Do not puchase this machine if you are not capable of doing your own maintenance and or making your own adjustments. By purchasing this machine you undestand and agree that we do not offer any type of service or repair at your location. Anny maintenance, adjustments or repairs that you cannot do yourself (or with the help of us via email and videos) will require the machine to be sent back to us for repair as mentioned above. The owner of this machine will need to be able to do their own maintenance such as adjusting the paper push, replacing or adjusting sensors, keeping movinf parts lubricated, replacing a part, tightening nuts and bolts, replacing blades, cut pads, belts, etc..